Slow Love
By Tim Otto
September 11, 2017
Available languages: Deutsch
I used to work as a nurse at San Francisco General Hospital on the AIDS ward. One of the patients on the ward, a former porn star, had mild dementia. In what appeared to be a bid for attention, he would walk around the ward naked. One day the head nurse called together a case management meeting and packed our small break room with professionals. The patient's medical resident and attending physician were there as well as his social worker, nursing team, a Shanti counselor, and a psychiatrist. The group debated medications and therapeutic interventions that might help.
At one point someone suggested, "What he needs is a family." There was a long pause. Everyone recognized the truth of this, but we also all knew that a hospital couldn't provide the man with family.
Institutions bolster efficiency, proficiency, and capacity. That might be a good thing for healthcare. But institutions can't love – not even the most well-intentioned, nonprofit, charitable, social enterprise organizations. We need to slow down and get personal when it comes to food, parenting, church – and especially love.
But institutions can't love – not even the most well-intentioned, nonprofit, charitable, social enterprise organizations.
In my current practice as a home health nurse, I continue to encounter the inability of institutions to mass-produce love. One of my former patients, a woman who uses a wheelchair, lives alone in one of San Francisco's low-income housing developments. Her pristine, twelfth-story flat commands a stunning view of downtown. She has a case manager, a home health aide, a doctor, a psychologist, a social worker, a financial manager, and a food delivery service. Yet she remains a sad soul because of a desolating loneliness.
I got into nursing in my early twenties, when a mentor taught me that God has a special love for the poor and challenged me to embrace a simple corollary: we should too. Energized by this call, I initially tried to love the poor by working at a free legal clinic for immigrants and as a teacher of English for World Relief. I traveled around Central America for nine months and studied Spanish.
Through those experiences, I learned this about myself: I love the image of me loving the poor – I don't love the poor.
Poverty damages people. It can leave people needy, depressed, and sick. The poor can be difficult to love. This may explain why we are so enamored with serving the poor who are far away and do little for those nearby. If I tell you that I used to be an AIDS nurse and taught English to political refugees, that bolsters my ego and might make you admire me. But for most of us, to love a specific poor person amidst all the sacrifice, complexity, and blessing that entails is rare.
As a young person, by God's grace and through the counsel of some older, wiser people, I learned that more than admiration, success, sex, or money, I needed love. I was an introverted, non-athletic, repressed white guy who had attended seventeen different schools by the time I was a senior in high school. I wasn't good at giving or receiving love, but I knew I wanted to learn how, and so when I was twenty-four I joined a Christian community dedicated to loving God and others.
I'm staying, and I'm experiencing the care of others who are also going through this process. As they respond with compassion to my poverty, the experience of being known in my failure and yet loved is a therapy that shocks my heart alive like a cardioversion, but over and over again.
Love perseveres in spite of failure, and humbly seeks forgiveness and love from God and others – and to forgive and love others – for the thousandth time. Love is rare because it is so difficult. At the Simple Way, a community known for service to its poor neighborhood, the participants say, "The most radical thing we do is choose to love each other…again and again."
As difficult as it is, love heals. The little household of which I'm a part is a hospital for souls. One of my housemates, who calls herself a "despairaholic," has taken as her most basic confession, "God is good." Another of my housemates, a man who used heroin for forty years, now dedicates himself to others by cooking bountiful dinners for the community and by maintaining our houses and cars. While I'm tempted to criticize and "fix" others, I'm learning that tendency to feel superior damages people. I'm growing in my ability to affirm and honor others.
These transformations are slow, quiet, and fragile. As I reflect on this, I'm learning the wisdom of Mother Teresa's admonition to "do small things with great love." Love usually feels small. When love is bigified, commodified, wigitized, and manufactured, it may bring about some good in the world—but it is no longer love.
I worry that, as we prioritize our jobs, the more institutional care for the poor will eclipse human, one-to-one love for others.
Because I live in San Francisco, the city of social enterprise start-ups that aim to save the world through powerful technologies if they can just get enough venture capital, I sometimes feel apologetic about our modest community. Young people often visit to see if community might fulfill their big dreams of meaning and importance. As they stare at our tattered furniture, reminiscent of the city's group homes, I tell them community won't – but it might help them get in touch with their own poverty. Somehow my sales pitch doesn't seem to be working.
I'm a little envious. The touring young people end up at socially progressive workplaces like Google. Google gets the people who have it together, and I get stuck with people like me. But while Google offers a sense of power, pristine work spaces, gourmet lunches, and salaries that make me dizzy, I get love. I get people who know me deeply, who share a history with me, and who are committed to me. Perhaps most importantly, I have a place to give the most sacred, human thing about me – my love.
I'm not opposed to technology or to institutions that serve the poor, but when we give our best energy to demanding jobs, we have little space to learn the art of love. Of course, if we choose to work at a job dedicated to the common good, that doesn't necessarily exclude us from learning how to love well. I work part-time at an institution that cares for the poor of San Francisco, and I'm glad for the job. But I worry that, as we prioritize our jobs, the more institutional care for the poor will eclipse human, one-to-one love for others. As Mother Teresa said, "The greatest disease in the West today is not TB or leprosy; it is being unwanted, unloved, and uncared for. We can cure physical diseases with medicine, but the only cure for loneliness, despair, and hopelessness is love. There are many in the world who are dying for a piece of bread but there are many more dying for a little love."
For those of us who are affluent Western Christians, I suggest an experiment like this: welcome a person who is poor (in a different way than you) into the network of people you think of as your extended family. Offer one another the blessings and obligations inherent in being family. Ideally, do this in the context of your church or parish. Try to love one another by welcoming one another's love.
In a world of dazzling technological power, it's tempting to think that we can mass-produce love.
Teresa of Ávila famously said that "Christ has no body now but yours. No hands, no feet on earth but yours." Beautiful as that is, the scriptural image of the body is even better. Rather than walking around as little messiahs bestowing healing upon the needy, we invite others to become Christ with us. Knit together into Christ's body by love, we each offer what we have been given by tending one another's wounds, and we dignify one another by receiving one another's gifts. In this exchange of love, we become the luminous miracle of rich and poor made one in Christ.
I'm concerned that this miracle is rarely seen. In a world of dazzling technological power, it's tempting to think that we can mass-produce love. But human souls aren't nourished by impersonal acts of care manufactured by institutions. Even God, the maker of the universe, became small in order to deliver love to each human soul. Let's imitate that example.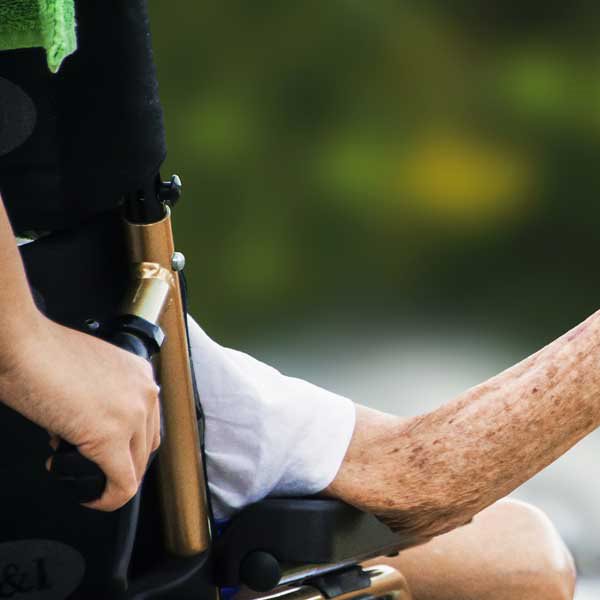 Contributed By

Tim Otto
Tim Otto is a pastor at the Church of the Sojourners in San Francisco, co-author of Inhabiting the Church: Biblical Wisdom for a New Monasticism, and may be followed at @Tim_Otto.