The Church Is Not Made of Cathedrals
Ministering to a Church in Exile
October 16, 2017
Holy Week 2017, Turkey
In the summer of 2015, Father Jacques Mourad was kidnapped by ISIS from the Monastery of Saint Elian in Al-Qaryatayn, Syria, and held in captivity until his escape five months later (see "An Impossible Hope," Summer 2017). He is one of ten monks and nuns of the community of Mar Musa, which he founded in 1991 with Father Paolo Dall'Oglio, an Italian Jesuit who was kidnapped by ISIS in Raqqa in July 2013. The ecumenical community, which practices the Syriac Catholic liturgy, is based in Deir Mar Musa, a monastery that dates from the sixth century. Before the war, the community hosted visitors from all over the world, focusing on interreligious work, specifically Muslim-Christian dialogue.
Now exiled from Syria, Father Jacques has continued his ministry in Iraqi Kurdistan. In April, he traveled with Monsignor Paolo Bizzeti, the Vicar Apostolic of Anatolia, to Cappadocia, Turkey, to serve some 1,200 Iraqi Christian refugees located in five different cities.footnote
Father Jacques and the Christians he visits may not be from the same country but they speak the same language and practice the same rites: Syriac and Chaldean. The families he meets have been in Turkey since the summer of 2014, when they fled the advance of Daeshfootnote forces in Iraq. All have requested emigration and are waiting for news. It is almost impossible to establish themselves in Turkey, said one man in Kirşehir: "We face too much discrimination on a daily basis. Finding work is very complicated as an Iraqi Christian. Those who do find work are underpaid."
The week unfolds based on needs and opportunities – Masses are organized daily. Because the few local churches have been closed or transformed into coffeehouses or museums, the Masses are said in banquet halls illuminated by disco balls or in family homes. At Nevşehir there are thirty-four worshipers, originating from Bartella, Baghdad, and Mosul. In order to attend the Mass, their first since Christmas, they cram into this narrow room with curtains pulled. Their eagerness to welcome and converse with the two priests reveals the solitude experienced in exile. Father Jacques is a former detainee and a refugee among refugees. His testimony creates a closeness, his strength and peace preaches comfort.
At each location, the two priests visit the sick. Lahib comes from Mosul; he was operated on nine months ago for a brain tumor. When the two priests celebrate Mass at his home, he cries and thanks God that he is able to walk again. On Holy Thursday, Monsignor Bizzeti addresses a gathering of two hundred and fifty Christians in an ornate wedding hall: "The true Church is not made up of cathedrals," he tells them, "but of a community gathered in spite of everything."
Once Mass is over, we leave quickly, as the hall could be rented for only two hours. Outside it is raining, and everyone disperses. A man welcomes the two priests to his home for the evening to discuss the difficulties of the local community. With delicacy and firmness, Bishop Bizzeti tries to restrain their hopes of obtaining visas. "I have great admiration for these men and women who retain a profound faith in such difficult times," he tells me later. "But they must know that only a minority can leave; they have to find the means to live here, today, in this country."
The only room actually serving as a church in the region is on the third floor of a building in the center of Kayseri. The Protestant community has obtained authorization from the authorities to set up a space there. It is here that the Easter Mass is celebrated on a Saturday afternoon. Several make the hour-and-a-half-long bus trip from cities the priests have already visited. This Holy Week is celebrated without cross or procession: like these lives, celebrations have been deprived of ornament. But at the end of every Mass, and especially on this Satur­day, joy and gratitude can be read on all faces.
Before he leaves the country, Father Jacques tells me, "These people are here because they are aware of their right to life and have a solid faith. The celebration of the resurrection strengthens the hope that they have in their hearts."
---
View the rest of this photo series here.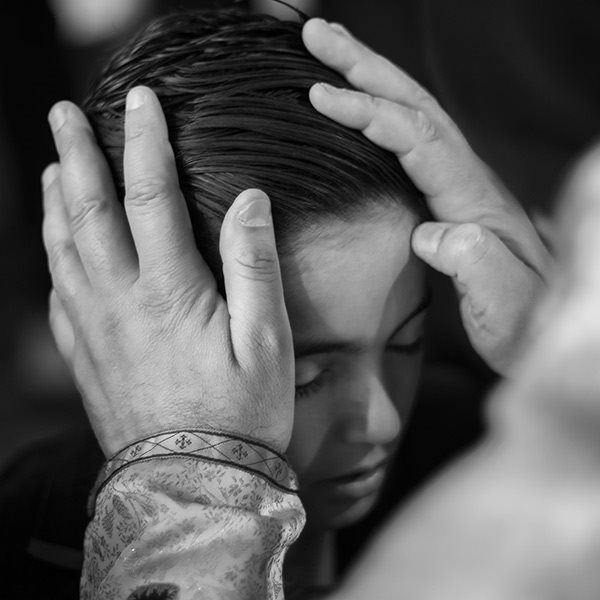 Footnotes
Editor's note: Although Cappadocia has been a place of Christian flourishing for millennia – it is mentioned in the First Letter of Peter, and was home to the great fourth-century Church Fathers – there are few functioning churches today.
Acronym of the Arabic name for ISIS.