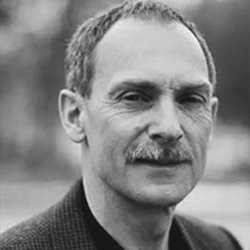 Historian and author
Goshen College professor
Mennonite Quarterly Review editor
Stoltzfus earned his BA at Goshen College in 1981and is now a professor there. He received his MA at New York University in 1988 and his PhD at Rutgers University in 2001. Before he started as a professor at Goshen, Stoltzfus worked as an editor for the New York Times. Stoltzfus is an editor for The Mennonite Quarterly Review and the author of Pacifists in Chains: The Persecution of Hutterites during the Great War. He is currently preparing a 2017 symposium and exhibit at the National World War I Museum in Kansas City titled "Remembering Muted Voices: Conscience, Dissent, Resistance and Civil Liberties in World War I through Today" to raise awareness about conscientious objection to war.