The Road to Healing
November 11, 2014
Jim Savage had just turned eighteen and gotten married when he received orders to ship to Vietnam in April of 1965. About five months into his tour, Jim got a cut on his ankle. It wasn't much at the time, but because of the mud and climate and filth, he developed an infection in his blood stream which ultimately settled in his lymph nodes and caused internal abscesses in his legs, chest and abdomen. He was air-evaced to a Saigon field hospital, where the dead tissue was removed and irrigation tubes inserted all over his body.
To top it off, Jim contracted malaria. He went from 182 pounds down to 119 pounds, and was transferred to a hospital in Japan. He had high fevers and started to hallucinate. The doctors talked of amputation, as the infection seemed to be penetrating into the bone. Jim spent five weeks in an isolation ward. During that time, he learned that his wife back home had given birth to a child prematurely, and the child had died.
Jim's doctor was able to make special arrangements for him to be med-evaced stateside. He still had open wounds on his chest and abdomen, but he was bandaged up and put on a plane. He had trouble walking, and the air-evac staff on the plane to San Francisco asked, "How in the world did you get on this plane? You shouldn't even be released from the hospital." But Jim made it back: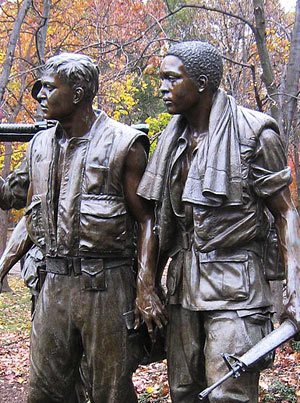 A lot of things stay with you for years and years - things you don't want to talk about, things you can't even discuss with your own wife. I used to wake up at night with hallucinations, with dreams and nightmares, for years after coming home.... During my tour of duty, there was an incident – our perimeter was broken through, and we had a firefight. It's very hard, very difficult, to have to take someone's life. But it's even harder when you have to do it in a close situation. The memory stayed with me, very vividly, for years. The eyes, the facial expression – everything stays with you a long, long time. It's something I don't think you ever really forget.

When I first came home I drank heavily and secluded myself, put myself in this shell that nobody could penetrate. I had trouble dealing with other people, and at work I insisted on being alone. I didn't want people around me. I had a lot of anger, a lot of hate, a lot of prejudice inside me. I also had a lot of fear, which people can't understand if they haven't been through it themselves.

I was looking for forgiveness, from people or from God, trying to convince myself that there could be healing. I knew I had to face these things. I couldn't pretend they weren't there, because just then they would always raise their heads. Certain things would bring them out. You get overworked or overtaxed or overtired, and the next thing you know your dreams are very vivid again.

It's like taking out the garbage. You can put your garbage in the can, but if you don't remove it, get it cleaned up, it stays right there. That's what I did. And I tried to ignore it, pretend it wasn't there, wish it away.
Over the past 20 years, Jim has slowly begun to find healing. It was through a new-found belief in Jesus that he realized forgiveness was possible, for himself, his family, the people around him who "couldn't understand," and the war-makers who indirectly caused him so much pain and suffering. His most important realization, however, was the recognition that he would have to confront the monsters in his own closet before he could ever hope to break free from the nightmares of his past.
There were things I was still keeping way down inside, but that needed to be brought out. They weren't easy to look at, and I didn't want to do it, but little by little, the walls came down. And I found I was able to be around other people, too. We used to have a saying: "Some people come home, but they never get off the boat." That period of your life has to be dealt with – it has to be talked about. And very often it's other veterans that can best help you to go on from there, because all of us have scars.
---
From Hell, Healing & Resistance: Veterans Speak (Plough, 1998)
More articles by and about veterans:
From Army Combatant to Fighter for Peace
Where Every War Veteran Can Find Healing
Once a Soldier, Always a Soldier