Advent Readings from a Modern Martyr
December 15, 2010
Available languages: Español
Advent should admonish us to discover
in each brother or sister that we greet,
in each friend whose hand we shake,
in each beggar who asks for bread,
in each worker who wants to use the right to join a union,
in each peasant who looks for work in the coffee groves,
the face of Christ.
Then it would not be possible to rob them,
to cheat them,
to deny them their rights.
They are Christ,
and whatever is done to them
Christ will take as done to himself.
This is what Advent is:
Christ living among us.
December 3, 1978
The person who feels the emptiness of hunger for God
is the opposite of the self-sufficient person.
In this sense, rich means the proud,
rich means even the poor who have no property
but who think they need nothing, not even God.
This is the wealth that is abominable in God's eyes,
what the humble but forceful Virgin speaks of:
"He sent away empty-handed the rich"
those who think they have everything
"and filled with good things the hungry"
those who have need of God. (Luke 1:53.)
December 3, 1978
Advent is not just four weeks
in which to prepare for Christmas.
Advent is the church's life.
Advent is Christ's presence...
and will bring about God's true reign,
telling us, humanity, that Isaiah's prophecy
is now fulfilled:
Emmanuel – God with us.
December 3, 1978
God comes, and his ways are near to us.
God saves in history.
Each person's life, each one's history,
is the meeting place God comes to.
How satisfying to know one need not go to the desert
to meet him,
need not go to some particular spot in the world.
God is in your own heart.
December 10, 1978
Who will put a prophet's eloquence into my words
to shake from their inertia
all those who kneel before the riches of the earth –
who would like gold, money, lands, power, political life
to be their everlasting gods?
All that is going to end.
There will remain only the satisfaction of having been,
in regard to money or political life,
a person faithful to God's will.
One must learn to manage the relative and transitory
things of earth according to his will,
not make them absolutes.
There is only one absolute: he who awaits us
in the heaven that will not pass away.
December 10, 1978
In celebrating Christmas, many Christians do exactly the opposite of what the earliest Christians did. By celebrating Christmas, they succeeded in bringing Christ into the pagan feast of the sun. Today's Christians' neopaganism is managing to paganize Christmas.
Jesus was not born on December 25 exactly. The Christian liturgy chose that date in order to give a Christian meaning to the Roman feast of the unvanquished sun. The pagans of the Roman Empire celebrated the sun's rebirth during the longest night of the year. That midnight was considered as the starting point of the sun's march, which then began to overcome the darkness. It was easy for the Christians to substitute Jesus Christ for the sun and to make the birth of Christ, Sun of Justice, coincide liturgically with the pagan celebration of the birth of the sun. The centuries that followed have proved the church's genius, for bit by bit the meaning of Christmas pushed into oblivion the jovial pagan celebration and filled the entire world with the joy of the Redeemer's birth. Today even unbelievers sense that something divine entered history during that night without compare. We all feel that the child born that night is a child of our family, and that the brightness of God's glory that the angels carol makes ofthat night the loveliest day, a day when God himself offers us his peace and invites us to be men and women of good will.
What a shame that all of that Christian inspiration with which our liturgy christened a pagan festival has been betrayed by many Christians, who today surrender that spiritual conquest to paganism. To make the values of commerce and of worldly gaiety prevail over the gospel meaning of Christmas is nothing short of a cowardly surrender on the part of Christians.
A return to the spirituality of a genuine Christmas will be a noble gesture of solidarity with Christianity's spiritual victories in the world. A celebration of Christ's birth with a sense of adoration, love, and gratitude toward the God who loved us even to the folly of giving us his own Son, will be to arrange our life so that the peace that only God can give may brighten it like a sun.
December 15, 1978
I invite you this week, in this hour
when our country seems to have no place for joy,
to listen to St. Paul repeat to us:
"Be always joyful.
Be constant in prayer.
In every circumstance give thanks.
This is God's will for you in Christ Jesus." (1 Thessalonians 5:16–17.)
The Christian, the Christian community, must not despair.
If someone dies in the family,
we must not weep like people without hope.
If the skies have darkened in our nation's history,
let us not lose hope.
We are a community of hope,
and like the Israelites in Babylon,
let us hope for the hour of liberation.
It will come.
It will come because God is faithful, says St. Paul.
This joy must be like a prayer.
"He who called you is faithful,"
and he will keep his promises. (1 Thessalonians 5:24.)
December 17, 1978
I know that God's Spirit, who made Christ's body in Mary's womb and keeps re-making the church...is a Spirit that is hovering – in the words of Genesis – over a new creation.
I sense that something new is happening.
I am a man, frail and limited, and I do not know what is happening, but I do know that God knows.
My role as pastor is what St. Paul tells me today: "Do not quench the Spirit." (1 Thessalonians 5:19.)
If I say in an authoritarian way to a priest: "Don't do that!" or to a community: "Don't go that way!" and try to set myself up as if I were the Holy Spirit and set about making a church to my liking, I would be quenching the Spirit.
But St. Paul also tells me: "Test everything and keep what is good." (1 Thessalonians 5:21.)
I pray very much to the Holy Spirit for that; it is called the gift of discernment.
December 17, 1978
If Christ had become incarnate now
and were a thirty-year-old man today,
he could be here in the cathedral
and we wouldn't know him from the rest of you –
a thirty-year-old man, a peasant from Nazareth,
here in the cathedral like any peasant
from our countryside.
The Son of God made flesh would be here
and we wouldn't know him –
one completely like us.
December 17, 1978
How shameful to think that perhaps pagans,
people with no faith in Christ,
may be better than we
and nearer to God's reign.
Remember how Christ received a pagan centurion
and told him, "I'll go and cure your servant"?
The centurion, full of humility and confidence,
said, "No, Lord. I am not worthy that you go there.
Just say a word
and my servant will be cured."
Christ marveled, says the gospel, and he said,
"Truly, I have not found such faith in Israel." (Matthew 8:5–13; Luke 7:2–10.)
I say:
Christ will also say of this church:
outside the limits of Catholicism
perhaps there is more faith,
more holiness.
So we must not extinguish the Spirit.
The Spirit is not the monopoly of a movement,
even of a Christian movement,
of a hierarchy, or priesthood, or religious congregation.
The Spirit is free,
and he wants men and women,
wherever they are,
to realize their vocation to find Christ,
who became flesh to save all human flesh.
Yes, to save all, dear brothers and sisters.
I know that some people come to the cathedral
who have even lost the faith or are non-Christians.
Let them be welcome.
And if this message is saying something to them,
I ask them to reflect in their inner consciousness,
for, like Christ, I can tell them:
the kingdom of God is not far from you,
God's kingdom is within your heart.
Seek it, and you will find it.
December 17, 1978
The Bible contains a very meaningful expression:
The Spirit makes all things new. (See Psalm 104:30.)
We are those who grow old,
and we want everyone made to our aged pattern.
The Spirit is never old;
the Spirit is always young.
December 17, 1978
God keeps on saving in history.
And so, in turning once again
to the episode of Christ's birth at Bethlehem,
we come not to recall Christ's birth twenty centuries ago,
but to live that birth here,
in the twentieth century, this year,
in our own Christmas here in El Salvador.
By the light of these Bible readings
we must continue all the history
that God has in his eternal mind,
even to the concrete events
of our abductions,
of our tortures,
of our own sad history.
That is where we are to find our God.
December 24, 1978
This is the Christian's joy:
I know that I am a thought in God,
no matter how insignificant I may be –
the most abandoned of beings,
one no one thinks of.
Today, when we think of Christmas gifts,
how many outcasts no one thinks of!
Think to yourselves, you that are outcasts,
you that feel you are nothing in history:
"I know that I am a thought in God."
Would that my voice might reach the imprisoned
like a ray of light, of Christmas hope –
might say also to you, the sick,
the elderly in the home for the aged,
the hospital patients,
you that live in shacks and shantytowns,
you coffee harvesters trying to garner your only wage
for the whole year,
you that are tortured:
God's eternal purpose has thought of all of you.
He loves you, and, like Mary,
incarnates that thought in his womb.
December 24, 1978
The Council says humanity's mystery can be explained
only in the mystery of the God who became human.
If people want to look into their own mystery –
the meaning of their pain,
of their work,
of their suffering,
of their hope –
let them put themselves next to Christ.
If they accomplish what Christ accomplished –
doing the Father's will,
filling themselves with the life
that Christ gives the world –
they are fulfilling themselves as true human beings.
If I find, on comparing myself with Christ,
that my life is a contrast, the opposite of his,
then my life is a disaster.
I cannot explain that mystery
except by returning to Christ,
who gives authentic features
to a person who wants to be genuinely human.
December 24, 1978
No one can celebrate a genuine Christmas
without being truly poor.
The self-sufficient,
the proud,
those who, because they have everything,
look down on others,
those who have no need even of God –
for them there will be no Christmas.
Only the poor,
the hungry,
those who need someone to come on their behalf,
will have that someone.
That someone is God,
Emmanuel,
God-with-us.
Without poverty of spirit
there can be no abundance of God.
December 24, 1978
When the poor have nowhere to rest their bodies,
and their children fleeing from the cold
find only hammocks
strung up in the fields and coffee groves,
we must recall that the Savior's good news is for all.
The happiness of the Lord who created us
to fulfill his salvation is everyone's.
December 24, 1978
Mary is not an idol.
The only Savior is God, Jesus Christ,
but Mary is the human instrument,
the daughter of Adam,
the daughter of Israel,
a people's embodiment,
sister of our race,
who by her holiness was able to incarnate in history
God's divine life.
The true homage that a Christian can make to Mary
is, like her,
to make the effort to incarnate God's life
in the fluctuations of our fleeting history.
December 24, 1978
Christ built his classroom of redemption
among the poor –
not because money is evil,
but because money often makes slaves
of those who worship the things of earth
and forget about God.
December 25, 1978
Along with you, my dear brothers and sisters, I too need to receive the good tidings tonight. As shepherd I must announce it, but as shepherd I must also be one of those shepherds of Bethlehem and receive from the angels the news that stirs our hearts. Let us receive it, you and I, with the same simplicity and humility as those shepherds did. The more simple and humble, the more poor and detached from ourselves, the more full of troubles and problems we are, the more bewildering life's ways, all the more must we look up to the skies and hear the great news: "A Savior is born to you." And let us listen in chorus to that great news, sung throughout the universe: "Glory to God in the heavens, and on earth peace to those whom God loves." (Luke 2:11, 14.)
December 25, 1978
Through the church's eyes I see the great deficiencies
in our Christianity...
superstitions, traditionalism, scandal...
And those who have money even publish those scandals
as though they were defending genuine values.
They don't realize that they are defending the indefensible:
a lie, a falsehood, a lifeless traditionalism,
and, much worse, certain economic interests,
which, lamentably, the church served.
But that was a sin of the church,
deceiving and not telling the truth
when it should have.
December 31, 1978
There are families where the faith is not developed,
because what is given is traditions
poisoned by economic and political interests
and wrapped up with things of faith.
They want a religion that will merely support
those interests.
And when the church protests against
such selfishness, sins, and abuses,
then it is thought to be departing from the truth,
and these Christians, with their children and all,
go away and continue to live traditions
that are not true Christian traditions.
December 31, 1978
Simeon says, "He is a sign of contradiction." (Luke 2:34.)
The good, and the bad who repent through him,
will receive mercy and pardon.
But he will also be the ruin of many,
because the sinfulness,
the selfishness,
the pride of many
will reject him.
Christ is a stumbling block.
And so, those who reject me do me an immense honor,
because I somewhat resemble Jesus Christ,
who was also a stumbling block.
Simeon prophesied that the church, following Christ,
would have to be like him.
December 31, 1978
The liberation Christ has brought is of the whole human being. The whole person must be saved: body and soul, individual and society. God's reign must be established now on earth. That reign of God finds itself hindered, manacled, by many idolatrous misuses of money and power. Those false gods must be overthrown, just as the first evangelizers in the Americas overthrew the false gods that our natives adored. Today the idols are different. They are called money, they are called political interests, they are called national security. As idolatries, they are trying to displace God from his altar. The church declares that people can be happy only when, like the magi, they adore the one true God.
January 7, 1979
With the symbolic gifts of incense, gold, and myrrh,
the wise men bring the pain, the sorrows,
and the concerns of their peoples
to beg salvation from the only one who can give it.
So it is in our own history.
Each Sunday when I speak of the specific events of the week,
I am only a poor adorer of the Lord, telling him:
Lord, I bring you what the people produce,
what the interaction of these people
of El Salvador,
rich and poor, rulers and ruled,
brings forth.
This is what we bring the Lord.
January 7, 1979
My position as pastor
obliges me to find solidarity
with everyone who suffers
and to embody every effort
for human freedom and dignity.
January 7, 1979
Christ says his reign is not of this world....but that does not mean that Christ is isolated from the power and wealth of earth. It means that he will use a different basis, a religious basis, to judge the consciences of political leaders and of the rich (and of the poor also), judging them from the eschatological and transcendent perspective of God's reign.
January 14, 1979
---
From The Violence of Love.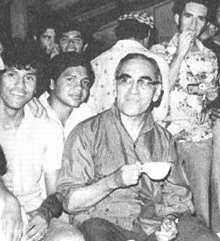 ---
Sign up for Plough's weekly newsletter