A Monk and His Secret
April 24, 2013
Available languages: Deutsch
"Faith is a matter of encounters." - Peter Zitta
"If you keep my commands, you will remain in my love. I have told you this so that my joy may be in you, and that your joy may be complete." - Jesus of Nazareth
We never asked him his name, but I can still see his joy – how he straightened his bent shoulders and planted his rake in the soil, and then leaned on it, as if for support.
"You came on just the right day," he told us, beaming.
We were standing in the expansive walled garden of the Franciscan cloister on the Frauenberg, a steep hill overlooking Fulda. It was a humid April day – the sun shimmering on the slate roof of a garden shed, the grass impossibly lush and green. Beyond the walls, fat brown buds had begun to pop here and there on the uppermost branches of a towering chestnut. Below us, the baroque spires of the city pierced the haze.
Along one border of the beds, daffodils nodded in a slow-motion trance. An ancient statue stood in one corner (still praying, though its hands were covered with moss); the walls held stone-carved reliefs, worn and crumbling but still identifiable as Stations of the Cross.
Then a crow hoarsely admonished us from a tangle of yew, and we looked up and saw the old man. He was fifty feet or so down the path, beyond a row of cold frames: stooped, weather-beaten, and moving stiffly – almost jerkily – though still resolutely. He was working alone, raking together small heaps of soil and then smoothing them out, back and forth, back and forth.
We walked over. He had just set out lettuce, he told us, and was about to sow spinach. It was the "perfect" day for us to stop by. We looked blank. He explained. "Today is my Jubiläumstag – the anniversary of my entrance into the religious life. On April 15, 1953 – sixty years ago today – I entered a Franciscan apostolate on the Rhine. I was seventeen. I trained as a gardener and took my vows and became a brother. I'm still here, as you can see –still a gardener and still a brother!" He threw back his head; his eyes laughing, his leathery face radiant.
We engaged in a minute or two of small-talk. I asked him what he thought of the new Pope. "It's clearly a great honor," he said, "that he chose Franz von Assisi as his model and his name."
He motioned to a section of the bed that still needed attention, and waved goodbye. We moved on, leaving the garden by way of a small terrace lined with headstones – a resting place holding dozens of priests and monks who once worked and prayed here; men whose chants once rose and echoed through the high vaulted spaces of the church now looming ahead of us, dark and silent.
Exiting the gate, we noticed a plaque on the wall inscribed with a saying of Francis of Assisi: "Hold back for yourselves nothing of yourselves, but give all, so that He might wholly accept you, who gives himself wholly for your sakes."
For the past several days I have been pondering this hard advice. Considering everything else that has transpired in the world over the last sixty years, and weighing it against the life of dedication this old man has lived, it seems that such an exhortation is as full of promise and possibility as it is demanding.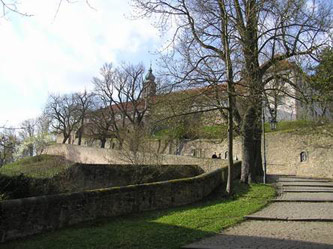 Once upon a time, the virtues of commitment, loyalty, and humility he embodies were universally applauded; nowadays they are more likely to be viewed as confining, or regarded with hostility and suspicion. Giving up everything "for God" and joining a religious order is something people tend to do only in books, or in a movie. But look at the result – at our profoundly unhappy world, where so many millions are trapped in a swamp of their own making: in greed, apathy, anger, desperation, hatred, lust, or fear.
I'm not suggesting that a cloistered life is the answer for all this. It is clearly a rare and special vocation. There are other ways to serve humanity, and other places where God can be found, from the chaos of an inner-city school or soup kitchen to the battlefront of a picket line or street protest – or any number of other settings.
To me, the decisive factor seems what we are living for. If we are doing it for love's sake (not in order to build an identity, and not to satisfy some quest for self-fulfilment), the particular call we answer may not matter. As long as we are truly living for the kingdom of God and its righteousness – for love, for justice, and for peace – we can trust that whatever venture we undertake, it will be blessed and invested with a sense of purpose that not even the passing of decades can erode.
"Hold back for yourselves nothing, but give all…" Surely this is the key to the gardener's contentment and joy, and the secret of every life lived fully and without regrets.