Occasionally a book comes along that is able to speak straight to the heart and at the same time energize hands and feet.  David Janzen's, The Intentional Christian Community Handbook, does just this.
With the culmination of years of experience and reflection, Janzen gently but straightforwardly guides the reader to Jesus' call to follow him with others. The book is for "idealists, hypocrites, and wannabe disciples of Jesus", knowing that the gift of community not only takes work and commitment from sinners, but assails the very habits of autonomous freedom and individualism which undermine community itself.
The book's appeal lies in Janzen's ability to integrate first-hand accounts of life in community with biblical insights and the kind of practical wisdom that comes through the school of hard knocks.  Janzen is no stranger to the blessings and pitfalls of Christian community.  He captures both the dream of experiencing Jesus' kingdom of justice and peace in the here and now, or what he calls "new ecclesial imaginations" and "Mammon-free zones", and keeps the reader firmly planted on the ground of human reality:
We want intentional community but expect it to be spontaneous and unintentional. The truth is, you're going to find a good deal of each of these in every community, and probably a good deal in yourself. Many of us have seen how practices produce busyness but no fruit of the Spirit. [We] have lived in a culture of "spontaneous" intentional Christian community that never gets the dishes done, the dirty laundry aired, or the kingdom sought. What is the way forward?
Without being a "how-to book," Janzen helps to provide an answer to this very question.
The book consists of several parts: our yearning for community, the biblical call of community, counting the costs of life together, the warp and woof of sharing life with others, the need for commitment and a common covenant. Woven throughout are testimonies balanced with a lot of sage advice – especially for young idealists:
Launching a new community from scratch can be a lot like crossing the ocean while building your boat, a perilous undertaking at which many – actually, most – groups fail. But guidance from the experience of other communities…can make a huge difference.
This guidance Janzen refers to is perhaps the best part of the book. Janzen offers not only insights from his own experience and community, Reba Fellowship, but draws generously from the experience of others and other communities, including the more recent new monastic efforts.  This allows him to tackle perennial, hot-button issues, like the need for leadership, a common covenant, membership, accountability, and confronting conflict.
Although I cannot relate to nor concur with everything Janzen writes, still, to one who has lived in Christian community for over 30 years, this book rings true.  And this is because, as Janzen points out, "community" is not an ideal. In fact, it can become an idol when separated from Jesus, "who is a living spirit embodied in the concrete lives of humans who suffer."  Instead, true community is the fruit of our loving real people that Jesus has given us to love.  And as Janzen reminds us, this alone is what finally matters. In the words of Jesus, "Love one another. As I have loved you, so you must love one another. The world will know that you are my disciples if you love one another" (Jn. 13:34-35).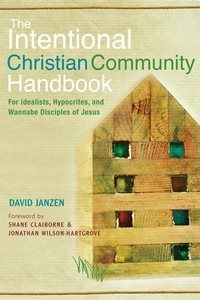 ---
Sign up for Plough's weekly newsletter